Open Media
Local knowledge, international experience
The Open Media Group is Portugal's leading publisher of foreign-language media both in print and online. From our base in the Algarve, our regional media products include magazines, newspapers and websites in English, Portuguese and French, working in close cooperation with associate companies in both Lisbon and Madeira. In the Algarve, the group has expanded both by acquisitions and new title launches. In 2012 and 2013, the group acquired the Algarve's two longest established regional newspapers, The Algarve Resident and Barlavento, launched respectively in 1989 and 1977, adding news media to the lifestyle magazine portfolio.
Management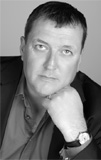 Bruce Hawker
Open Media Group Founder & CEO Bruce Hawker
Bruce has worked in Publishing in Portugal since the 1980s and launched Essential Algarve magazine in 2000. Over the years, he has worked on various international magazine launched in locations such as Macau, Malaysia and the UK.